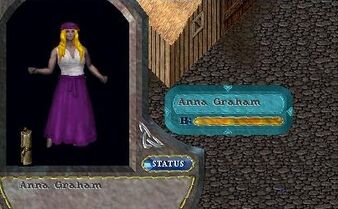 The forlorn lady Anna Graham
The woman is missing her husband, and is searching for help finding him. Only problem is, he has not yet been located!
Not much is known about this quest. It's up to you to find Anna's missing husband and reunite the young couple.
Anna can be found outside an inn in a busy Britannian city.
Ad blocker interference detected!
Wikia is a free-to-use site that makes money from advertising. We have a modified experience for viewers using ad blockers

Wikia is not accessible if you've made further modifications. Remove the custom ad blocker rule(s) and the page will load as expected.