Carpentry can be a very useful crafting skill. It can be used to make things like household decoration, storage and add-ons, weapons and armor, and musical instruments, among others. Other skills complement carpentry and allow for more crafting options. A carpenter will benefit from having Tailoring, Musicianship, Alchemy, Blacksmithing, Tinkering and Magery. There are many carpenter's tools, such as nails, saws, planes, shaving tools, etc., all of which can be purchased at any carpenter vendor and are all equally effective.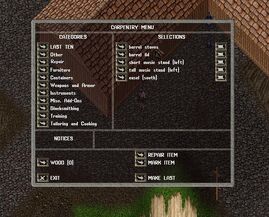 Once a carpenter had reached Grandmaster level and above, he can mark items with his name. There is an option on the carpentry menu that lets you choose "Mark", "Do Not Mark" or "Prompt For Mark". Exceptional items crafted by a GM carpenter are more powerful than their non GM-crafted counterparts. For example, GM-crafted exceptional instruments give the user a 10% higher chance of success with bard skills. Also, GM exceptional weapons and armor do more damage and protect better, respectfully.
At 100 Carpentry another crafting option is unlocked: Stonecrafting. To start making things with stone, a GM carpenter must read the book "Making Valuables With Stonecrafting" and obtain a mallet and chisel, both of which are purchasable from Todd the miner in Britain. High quality granite is needed as a resource for stonecrafting. It can be collected by Grandmaster miners after they have read the book "Mining For Quality Stone", also purchasable from Todd the miner. Exactly what type of things can be crafted with stonecrafting are unknown at this time.
Table of craftables:
Item Name
Skill Required
Boards/Logs
Other
Barrel staves
0
5
Barrel lid
11.0
4
Short music stand
78.9
15
Tall music stand
81.5
20
Easel
86.8
20
REPAIR DEEDS
Armor repair deed
80.0
10 blank scrolls
Weapon repair deed
80.0
10 blank scrolls
FURNITURE
Foot stool
11.0
9
Stool
11.0
9
Straw chair
21.0
13
Wooden chair
21.0
13
Vesper chair
42.1
15
Trinsic chair
42.1
13
Wooden bench
52.6
17
Wooden throne
52.6
17
Magincia throne
73.6
19
Small table
42.1
17
Writing table
63.1
17
Large table
63.1
23
Yew-wood table
84.2
27
Elegant low table
80.0
35
Plain low table
80.0
35
Rustic bench south/east
100.0
60
1 lacquer
1 nails
Woodworker's bench

south/east

110.0
200
1 vice
1 nails
Alchemist's table
105

+90 Alchemy

200
1 lacquer
1 nails
CONTAINERS
Wooden box
21.0
10
Small crate
10.0
8
Medium crate
31.0
15
Large crate
43.3
18
Wooden chest
73.6
20
Wooden shelf
31.5
25
Armoire (red)
84.2
35
Armoire
84.2
35
Ornate wooden chest
90.0
30
2 hinge
2 hardware
Tall cabinet
90.0
35
2 hinge
2 hardware
Red armoire
90.0
40
2 hinge
1 lacquer
3 hardware
Maple armoire
90.0
40
2 hinge
1 lacquer
3 hardware
Cherry armoire
90.0
40
2 hinge
1 lacquer
3 hardware
Full bookcase
100.0
100
1 lacquer
50 blank scrolls
1 nails
Elegant armoire
90.0
40
2 hinge
2 hardware
Short cabinet
90.0
35
2 hinge
2 hardware
Gilded wooden chest
90.0
30
2 hinge
1 lacquer
3 hardware
Plain wooden chest
90.0
30
2 hinge
2 hardware
Finished wooden chest
90.0
30
2 hinge
1 lacquer
3 hardware
Dresser
105.0
45
2 hinge
2 hardware
Fancy Dresser
105.0
45
2 hinge
1 lacquer
3 hardware
Wooden footlocker
100.0
50
2 hinge
1 lacquer
3 hardware
Gothic chest
105.0
80
2 hinge
1 lacquer
3 hardware
Keg
57.8
3 barrel staves
1 barrel hoop
1 barrel lid
WEAPONS, ARMOR
Shepherd's crook
78.9
7
Quarter staff
73.6
6
Gnarled stafff
78.9
7
Wooden shield
52.6
9
Fishing pole
68.4

+40 Tailor

40
5 cloth
INSTRUMENTS
Lap harp
63.1

+45.0 music

20
10 cloth
Standing harp
78.9

+45.0 music

35
15 cloth
Drum
57.8

+45.0 music

20
10 cloth
Lute
68.4

+45.0 music

25
10 cloth
Tambourine
57.8

+45.0 music

15
10 cloth
Tambourine with tassel
57.8

+45.0 music

15
15 cloth
Bamboo flute
80.0

+45.0 music

15
Satyr pipe
90.0

+60.0 music

20
10 leather
HOUSE ADD-ONS
Small bed S/E
94.7

+75 tailor

100
100 cloth
Large bed S/E
94.7

+75 tailor

150
150 cloth
Dartboard S/E
15.7
5
Ballot box
47.3
5
Pentagram
100

+75 magery

100
40 ingots
Abbatoir
100.0

+50.0 magery

100
40 ingots
Small forge
73.6      +75.0 Blacksmithy
5
75 ingots
Large forge S/E
78.9      +80.0

Blacksmithy

5
100 ingots
Anvil S/E
73.6      +75.0 Blacksmithy
5
150 ingots
Dressform
63.1

+65 Tailoring

25
10 cloth
Spinning wheel S/E
73.6

+65 Tailoring

75
25 cloth
Loom S/E
84.2

+65 Tailoring

85
25 cloth
Stone Oven S/E
68.4

+50 Tinkering

85
125 ingots
Flour mill S/E
94.7

+50 Tinkering

100
50 ingots
Water trough
94.7
150